25 September 2023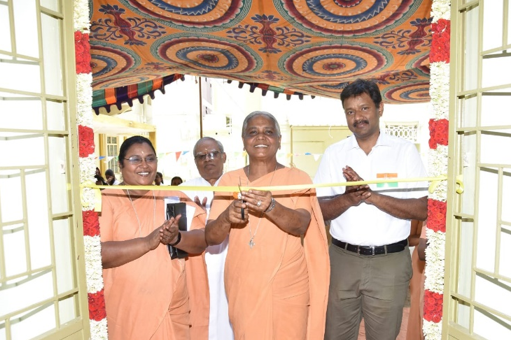 "The blessing Ceremony of the HCC Centenary Project - Holy Cross College RAPHA Health Centre-Heal @Rs.10 in Collaboration with GVN Hospital, Trichy was on 15th August 2023 Tuesday at Maria Villa Block, Holy Cross College Hostel, Trichy. The Programme began invoking God's blessings with a Prayer Song, Bible Reading and Prayer by the Sisters of the Cross. Rev. Sr. Dr. Isabella Rajakumari, the Principal welcomed the august gathering and Rev. Sr. Dr. Lourdu Mary Academic Co-ordinator and Associate Professor, Rehabilitation Science shared the significance of RAPHA Project stating that this initiative will help in providing quality healthcare to marginalized communities and break the cycle generational health issues and leading to a brighter future for the individuals and their families.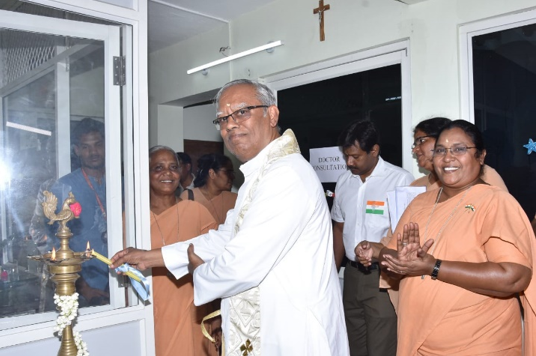 RAPHA-healthcare infrastructure would act as a frontline defense against health challenges for our own Students, Staff and the larger communities. They can reduce the burden on hospitals by handling less critical cases, allowing hospitals to focus on more complex medical needs. RAPHA would provide cost-effective health care options, especially for those who are uninsured or underinsured. It aims to offer a range of service at a lower cost, making healthcare more accessible to a broader population. Rev. Sr. Lourdu Adaikalasamy, Provincial, Sisters of the Cross of Chavanod, Tiruchirappalli felicitated and appreciated the noble venture which will be functionally useful to address healthcare gaps, improve health outcomes, promote community well-being, reduce disparities, offer affordable care, and contribute to the overall development of a healthy society. It is an investment in the present and future health of the community.
Dr. V. Senthil, M. S. Ortho, Orthopaedic Surgeon & Director, GVN Group of Hospitals, Trichy also rendered the felicitation recollecting the memories of his Grandfather Dr. Viswanthan and father Dr. Jeyapal who have been an instrumental in providing medical services in an age old dispensary called Hosanam Dispensary since the 1970's along with the commendable service of Rev. Sr. Augusta, Rev. Sr. Mary Jacob and Rev Sr. Amendine. Thus having started as a Dispensary today it has become a Heath Centre to provide significant benefits to both the Students and staff of the College as well as the General Public.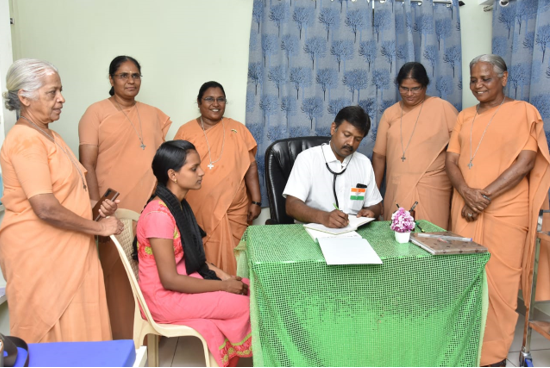 "The HCC RAPHA Clinic with well-equipped infrastructure for initial medical consultation was opened by Rev. Sr. Lourdu Adaikalasamy, Provincial in the presence of Rev. Sr. Lilly Mary David, Mother Superior, Rev. Sr. Dr. Anne Xavier Secretary, Rev Sr. Dr. Isabella Rajakumari, Principal, all other Sisters of the Cross, Staff and Students of the Department of Audiology Speech Language pathology and DMLT. Rev. Fr Msgr. L. Anthuvan, Vicar General, Diocese of Tiruchirappalli recited the blessing prayer and blessed the entire clinic by sprinkling Holy Water.
Dr. Senthil to begin with examined a few students with ailments and prescribed medicines. The Audiological screening was done by the Audiologist and blood typing was performed for those requested by the DMLT Technicians. Dr. R. Sundaresan, Head, Department of Audiology Speech Language pathology thanked everyone who contributed to RAPHA become a reality in the campus of Holy Cross College, Tiruchirappalli.
Sr Lourdes Arockiasamy
Holy Cross Convent, Fort