21 September 2020
Mission consciousness is an integral part of consecrated life. On 14th September, the Church celebrated the Feast of the Exaltation of the Holy Cross. The Sisters of the Cross of Chavanod of Guwahati province also observed the day as a day of remembrance of their founders: Mother Claudine Echernier, the servant of God Fr. Peter Mermier and the final profession of four Sisters.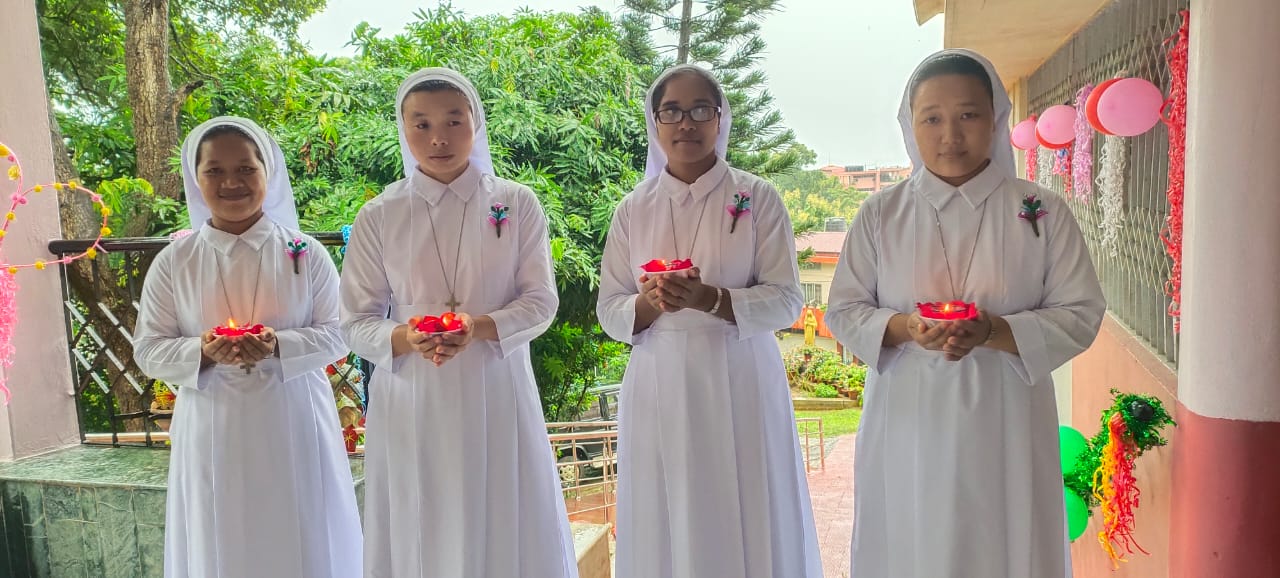 The final profession is a memorable day in the life of a religious Sister, who makes a lifelong commitment. The Sisters who made the final profession are Sr. Phopei Esther, Sr. Asha Ekka, Sr. Fatima Peter and Sr. Kalpana Boro.
In the life of Mother Claudine Echemier, the cross of Jesus was her book and glory. She placed herself under the standard of The Cross. Thus The Cross is a significant symbol for every Sister of The Cross. The theme of the celebration was 'I am a mission on this Earth under the standard of The Cross'. The function was held at Guwahati provincial house.
Pope Francis wrote in Evanglie Gaudium, "I am a mission on this earth: that is the reason I am in this world. We have to regard ourselves, sealed, even branded by this mission of burning light, blessing, enlivening, raising, healing and freeing".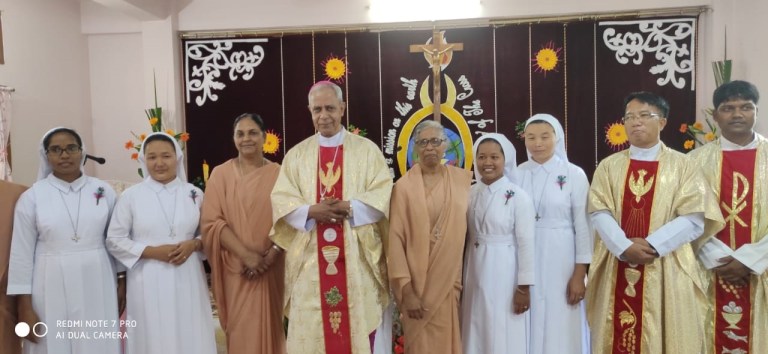 The Archbishop of Guwahati Most Rev John Moolachira officiated the function as the main celebrant. Among the concelebrants were Fr. Simon Thaikho MSFS, the uncle of Sr. Esther Phopei and Fr. Zacharias Minj SDB, the uncle of Sr. Asha Ekka. There presence added joy to the occasion.
Archbishop John in his homily explained the rich meaning of the Sign of The Cross, "We bless ourselves with the Sign of The Cross. Congratulating the congregation and the newly professed Sisters, he exhorted, "We are called and sealed by God to continue the mission of Christ in the Church and in the society".
Sr. Esther Phopei is the second child of Mr. K. Phopei and Mrs. Caroline. She hails from the Poumai community in the State of Manipur. She is a registered nurse and is engaged in the Healing Ministry of Jesus.
Sr. Fatima Peter is the eldest among her siblings. Her parents are Mr. T. S. Peter and Mrs. Sarphina from Poumai community in Manipur. She has a special quality of sharing God's love for little children in the schools and villages.
Sr. Asha Ekka is the eldest daughter of Mr. Jacob Ekka and Mrs. Tàssia Ekka. She is from the Adivasi community of Assam. She is a cheerful person and is creative and friendly to the youth and children. Sr. Kalpana Boro is the first child of Mr. Bisti Ram Boro and Mrs. Khumbala Boro from Boro community of Assam. She loves sharing God's love in pastoral ministry and teaching.