03 June 2020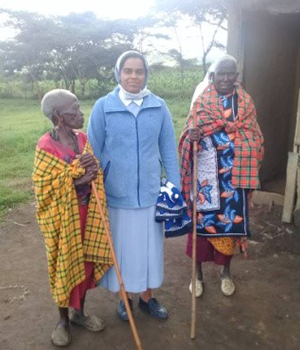 Preferential option for the poor is a gospel imperative. (ROL 15.) It was also the option of our Mother foundress and still remains our option too. We share in their suffering and they evangelize us with their unfading smile irrespective of their misery. Our Mother Foundress gave herself up as much as she was able to all spiritual and temporal works of mercy (FA 1 pg 322...) She was active in her manner of giving alms. She distributed goods with much discernment and she gave foodstuffs to persons whom she knew were in need. (FA 1 pg 323 para 2&3)
As a Province we have responded to the worst affected due to floods, sickness and lockdown although the lockdown has been imposed in few
places where the spread of the pandemic is high. In the Province of East Africa we are working in three countries namely: Tanzania, Uganda and Kenya. In Tanzania the citizens are cautious but there is no lockdown imposed. Christians are able to attend Mass but the schools are closed down. People are able to work as usual and are taking precautionary measures. In Kenya lockdown is imposed in big towns like Nairobi and Mombasa where the disease is spreading rapidly. Schools, churches and markets were closed since 16th March 2020. Other places there are dusk to dawn curfew. (7.00 pm to 5.00 am)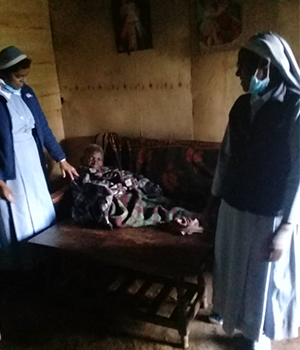 In Uganda the country is under total lockdown for the past two months. Our Sisters at Kasana community have given maize flour and beans through the parish which was distributed to the people who are most affected.
At Nairagie Enkare community in Kenya, the sisters in collaboration with the parish priest have stepped forward to help few families who are affected by floods, famine and diseases. We have provided them with 140kgs of maize, 10kgs of rice and 25kgs of flour. The sisters also helped in the distribution of food material given by the government of Kenya to the people whose crops were washed away by the flood. The relief food was kept in our campus was easy for the sisters to assist in the distribution to 500 people. From the physical outlook we could see the hungry stomachs struggling to get few packets of rice. The government has given 2,500kgs of rice which was distributed to 500 families.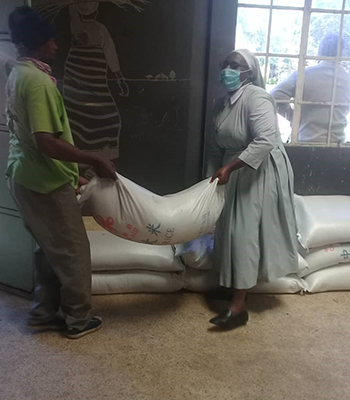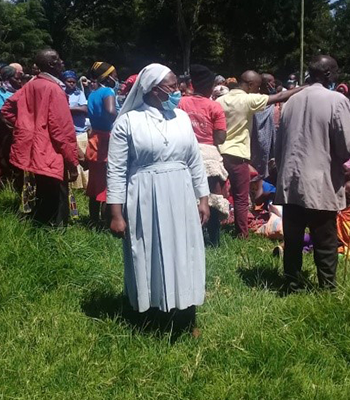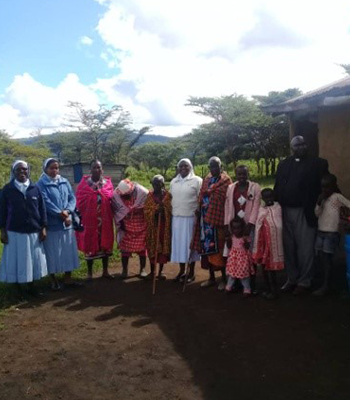 We also visit the sick in their families although it is not much encouraged by the government. We are united with all our sisters all over the world as they strive to assist the people who are the victims of the pandemic.
Sr.Priscah Muthoni
Province of East Africa