"All authority comes from God,  and those in positions of authority have been placed there by God"  Romans 13:1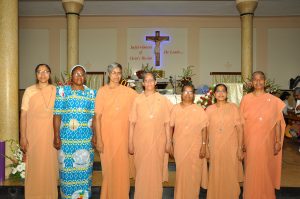 It is God's intervention that we are delighted to have newly elected  Superior General Sr. Elizabeth Miranda, General Councillors: Sr. Gracy Sundar, Assistant General (Province of Kolkata), Sr. Shaly Sebastian (presently Novice Mistress at Trichy, Province of Angamaly), Sr. Natacha Ohoussi (Congo-Cameroun) and Sr. Rosalie Joseph (Province of Madurai) General Secretary Sr.Daisy Premila Thankiah (Province of Trichy) General Bursar Sr.Marial D'Mello.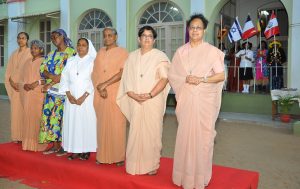 We thank God for the progress we have made in the preceding years under  the  able-guidance  of Sr. Eugene D'Souza as Superior General,  with her team Sr. Evelyn Monteiro as Assistant General, Sr. Lourdu Adaikalasamy, Sr. Marie Christa Bennet and Sr. Alphonsine Ebene as General Councillors, Sr.Philomene Rose Savarimuthu as General Secretary with the spirit of coordination, cooperation and collaboration. We thank them for the mission well executed.
Assuring them of our prayers for their future endeavours, we join St. Paul and say
"May the God of hope fill you with all joy and peace in believing, so that by the power of the Holy Spirit you may abound in hope". 
Rom 15:13
Back